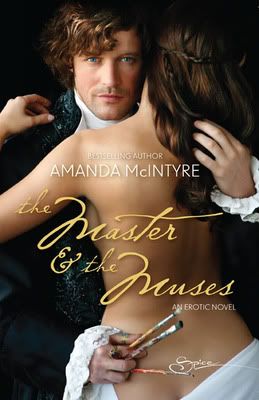 Today's interview is with Crescent Moon Press author Amanda McIntyre, author of romance in the historical, paranormal, and contemporary genres.
1. Can you tell us a bit about your most recent work?
At present, I have several different "irons" in the fire. I just released an historical Victorian-set holiday story called A CHRISTMAS PROMISE (Decadent Publishing, Dec. 2010) that is the tale of a young Irish widower and his son who survive the trip to America only to find the streets are not paved with gold. But the kindness of a complete stranger (albeit beautiful) restores his faith and allows his broken heart to love again. My most recent full novel, THE MASTER & THE MUSES (Harlequin Spice, June 2010) is a London Victorian set against the landscape of characters inspired by the Pre-Raphaelite Brotherhood-the Victorian "bad boy" of the London art world. Their eccentricity and rebellious determination to paint in their own style instead of conforming to the styles of others was truly my inspiration in writing this story. Written in three separate novellas, the M & M is written in first person by each of three young women who once posed for these artists and became confidants, companions and lovers along the way. The real life story of these women, during a time when society thought it indecent to pose alone for an artist, intrigued me–what were their lives like before meeting these artists? What became of them when the paintings were done? And of course, everything that happened in-between 😉
2. When did you decide to become a writer, and how did you reach that decision?
My step into writing was not a lifelong dream. I wanted to be an illustrator for Disney once upon a time. I've always had a creative streak inside me–whether crafts, painting with oils, watercolor, charcoal,–in fact, I attribute a great deal of what I learned about "coloring outside of the box" to my high school art teacher. I began writing a weekly newspaper column to educate and highlight the importance of the Fine Arts in schools, and lo and behold, became pregnant with twins. So Looking for something I could do from home, I discovered a new little thing called an "e-book" and curious read it, contacted the author to let her know how much I loved it and from there began to be drawn into a new venue for my creativity. I've now been writing for over ten years, multi-published in both romance fiction and non-fiction work. My greatest reward is when a reader emails to share how a story or character touched them. I have a brain that doesn't quit, I'm afraid and love researching obscure bits of history as well as pushing the boundaries of my imagination;)
3. What were the first steps that you took on your journey as a writer?
Educating myself and opening my mind to the many possibilities. It's said that you need to learn to grow a thick skin in this business because of the reality of rejections and reviews that may not be so great. I say (after many roller-coaster experiences) that this is true to a certain extent. On the other hand, as a writer, you write from an emotional level–rarely from a business standpoint–you invest yourself emotionally into each character, to what happens to them, how they end up at the end of the story. After that–you have to put on your "business suit" and see things in a business light–what was that editor looking for? Did I follow the submission guidelines of that publisher to the letter? Did I do my research thoroughly? Writing is not for the faint of heart;) My favorite story is John Jakes (one of my fav authors) was rejected 68 times before landing his first published book. And there are countless other similar stories. One of my personal mottos is from Picasso who said, "I am always learning what I do not know in order that I may know how to it." I'm still on this journey, learning more every day. If you stop learning, you stop growing.
4. What was the first story you ever wrote about?
The first story I wrote (and literally I stayed up all night penning the first draft by hand) was about a young widow who moves to Mackinac Island to pursue her dream of becoming a writer. She is swept up by the charm of a stranger, battles the opinions of her older children against what she wants, and realizes her husband's death was perhaps not an accident at all. However, my first published story was a sweet romance set during Chicago's St Patrick's Day parade, called "Lucky in Love."
5. How did you find Crescent Moon Press?
Honestly, I can't remember exactly, but most likely by the recommendation of another author. Plus I was intrigued by their format. I have a passion for faeries and all things medieval and Celtic, so I was drawn into the glade!;)
6. What do you like most about working with Crescent Moon Press?
That they are holding their own. Hard to do in this industry. That they remain consistent and true to the vision they had from the start.
7. What piece of advice do you think is most important for writers?
Be tenacious. Love what you do. I cannot stress the importance of networking and research in this business. It is always changing, evolving–a virtual cornucopia of ideas, needs, and strategies that changes almost daily. Plug into conventions like Romantic Times Booklovers convention and informational resources like Publishers Marketplace and Novelists, Inc. Hone your basic writing skills, and accept rejection as a tool of learning-either how to improve your work, or to simply accept that opinions are subjective from reviewers to publishers.
8. What are you reading right now?
I've been on a Kristin Hannah kick of late, with her "Mystic Lake" books, but I also just finished a wonderful book by an author new to me, Holly Chamberlin's "One Week in December" I'm an eclectic reader and love everything from research books (a passion) to women's fiction and historical and contemporary comedy romance, suspense and paranormal.
9. Your story, Garden of Dreams (will be linked to in the post), is posted free on Crescent Moon Press's website. What made you choose to post this story on your publisher's website?
CMP was looking for stories of romance and paranormal and fantasy. I felt it was a good way to give readers a taste of my writing. I also have a free read called The Boys Club at (steamy historical London Victorian) eHarlequin
and most recently a free read at All Romance E-books of a vampire short story that was finalist in their Just One Bite contest. *link: Really Long Link
10. What do readers have to look forward to from you in the coming months?
I have the second in a mini-series of anthology projects with Harlequin Spice that I call the Celtic Spice coming in April 2011. SACRED VOWS, is a medieval story set in Ireland in THE PLEASURE GARDEN, my story MIRROR, MIRROR,(Harlequin Spice Briefs )will be included in the next volume of NAUGHTY BITS, coming out in March of 2011 and my steamy time-travel western, WILD AND UNRULY has just been contracted with Decadent Publishing-no release date has been given on that just yet. I'm also shopping a gothic Victorian romantic suspense right now and as always have a number of other books looking for a good home;)
Thanks,
Your welcome! Thank you for inviting me here. I'd like to invite you and your readers to visit my website where you can join my newsletter and stop in at the House of Muse blog anytime!