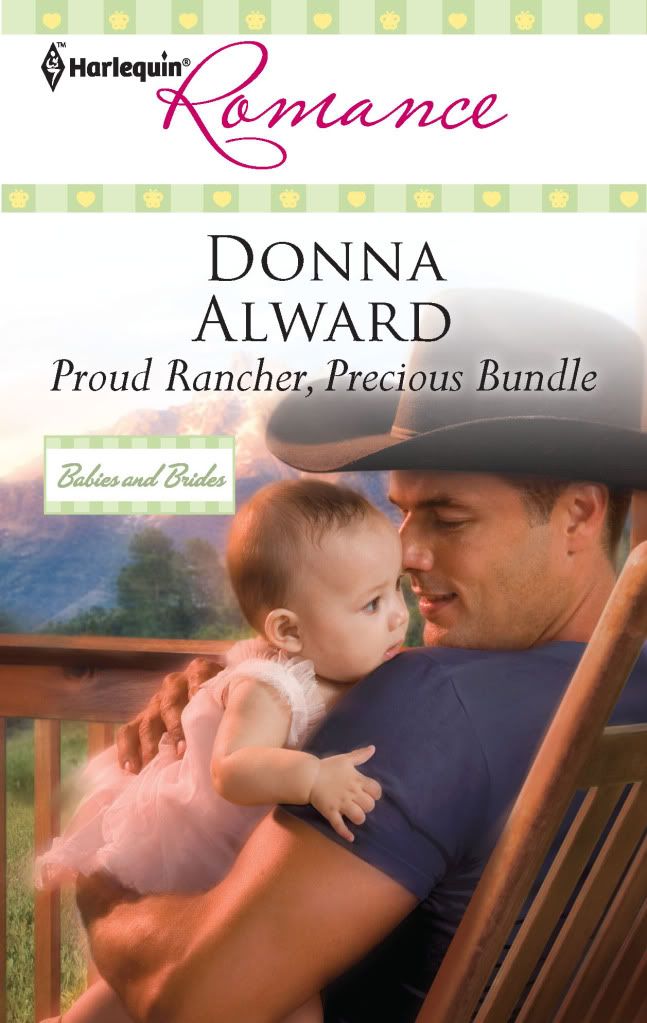 This week's interview is with Canadian romance author Donna Alward.
1. Can you tell us a bit about your books?
I write contemporary romances with a home and family sort of feeling – lots of westerns as cowboys are totally awesome, but every now and again I sneak in something slightly different – a soldier or businessman and I've also had a winery owner. My tag line is Emotional, Feel-Good Romance and that's what I strive to deliver every time. Currently I write for Harlequin Romance and Samhain Publishing.
2. When and how did you first decide to become a writer?
I always loved words and wrote things, enjoyed creative writing and toyed with the dream of writing. But I really decided to be a writer after I finished my first full manuscript. I was hooked. I knew then that this was what I really wanted to do with my life.
3. What was the first story you remember writing about?
I started writing a story about a girl with a crush and unrequited love. As you can imagine I was quite young and it had an autobiographical bent. J It was never finished. But it makes sense that it was a romance, doesn't it!
4. What did your path to publication look like?
It felt long but it was shorter than many. It was four and a half years of writing and learning and submitting and rejection. It had its ups and downs and it wasn't easy, but I am pretty stubborn. The writing got better and I started getting editorial feedback. I got The Call in 2006 and I'm currently working on my 18th title.
5. Which authors do you think influenced you most as an aspiring writer?
From an "I wish I could write like that" point of view, I read a lot of LaVyrle Spencer, early Nora Roberts (oh, those McGregors!), and Judith McNaught. From a mentor perspective, my critique partner Michelle Styles kept me going on a daily basis (and still does) and I also had Liz Fielding and Trish Wylie cheering me on in particular. The romance community is spectacularly generous and supportive.
6. What does your ideal writing life look like?
It looks quiet and orderly. I strive for that every day and achieve it in varying degrees. When I have tamed writing chaos, the house looks like something exploded. There are only so many hours in the day.
7. What, other than writing, interests you most?
My kids. The world. People. I like experiencing things. I wish I could travel more and I hope to someday. I'm an introvert but I think a lot and I love learning.
8. What is one piece of advice you think it is important for all writers to remember?
It ain't easy, and it's never going to be easy. But it's worth it, so don't give up. You only fail if you give up.
9. What are you reading right now?
I can't tell you, it's a big secret. Actually, that's true. I'm in the middle of reading the books I'm judging for the RWA RITA awards. It's a great way to find new authors and read something different. I look forward to it every year.
10. What are you working on right now that readers have to look forward to?
I'm just putting the finishing touches on my latest Harlequin Romance that I hope will be out late this year or early next. And once that's handed in, I'm revising a novella for Samhain Publishing that's hopefully the first story in a series. I don't have an official release date for it yet. The first quarter of this year is looking extremely busy, but it's very good to have the work!
Bio: A busy wife and mother of three (2 daughters and the family dog), Donna Alward believes hers is the best job in the world: a combination of stay-at-home mom and romance novelist.
An avid reader since childhood, Donna always made up her own stories. She completed her Arts Degree in English Literature in 1994, but it wasn't until 2001 that she penned her first full-length novel, and found herself hooked on writing romance. In 2006 she sold her first manuscript.
From her new home office in Nova Scotia, Donna loves being back on the East Coast of Canada after nearly 12 years in Alberta where her Harlequin career began, writing about cowboys and the west. Donna's debut Romance, Hired by the Cowboy, was awarded the Booksellers Best Award in 2008 for Best Traditional Romance.
With the Atlantic Ocean only minutes from her doorstep, Donna has found a fresh take on life and promises even more great romances in the near future!
Donna loves to hear from readers; you can contact her through her website at www.donnaalward.com, visit her facebook page, or through her publisher.
Twitter: @DonnaAlward
Do you have any questions for Donna? She'll be hanging around here today to answer them.