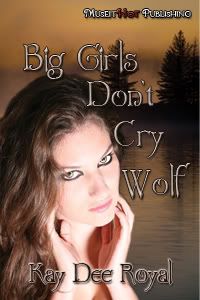 Today's author interview is with Kay Dee Royal, author of Big Girls Don't Cry Wolf, published by MuseItHot! Publishing. She will be available later on today to answer any questions you may have.
1. Can you tell us a bit about your e-book, Big Girls Don't Cry Wolf?
I first got the idea for my protagonist, Brea, when I saw a contest asking for a
strong, intelligent, plus-sized, confident-in-her-body heroine. I loved the concept
and so did Brea.
The story relates to two sets of twins (lots of 2's here). Brea loses her twin sister
at age fourteen, although Brea (now age twenty-six) never has felt Belle's death.
Brea takes over the family business, a rustic vacation resort, throwing herself into
its success. Grey and his brother Blake (twin werewolves) enters the picture, looking for rest,
relaxation, and maybe a mate or two on the side. A rogue werewolf abducts Brea. Grey must find her and claim her for himself, if he can…or is it already too late?
It's only 20,100 words, so a fast read, but long enough to develop the hero and
heroine, and of course the villain.
2. How did you find Muse It Up Publishing?
I've been an avid follower of Lea Schizas for years. Attending her Muse Online
Conferences, reading her online e-zine, Apollo's Lyre, being a member to her
Yahoo Groups – Muse Online Conference group, and a crit group Big Kids Muse
(for YA). When I found out she was opening an online publishing house, I wanted
on board. So, I submitted as soon as I could.
3. What's your favorite thing about Muse It Hot?
I absolutely love the author support there. Lea, Litsa, the editors, cover artists, and
all of the authors are there for everyone, like a family, sharing blogs, information,
and wisdom. Being there has been an awe inspiring experience for me.
4. When and how did you decide to become a writer?
After nearly twenty years, my corporate job began draining me instead of feeding
me. It sucked the life force right out of me. I needed a change. After a lot of
discussion, my husband agreed I needed out and he gave me a couple of years
to attain a writing career, something I had dallied in for years, but not seriously.
So, I got serious. Took a writing course for children and wrote three novels that I
haven't sent any where.
Once I started writing romance, it was tough to stop. So here I am.
5. Why did you choose paranormal erotica romance?
It is what I love to read. It made sense to write what I love.
6. What advice would you give to writers looking to write more realistic love
scenes?
First, write what feels comfortable for you to write. If it doesn't feel comfortable
it will come across stilted and uncomfortable to the reader. Next, I'd say give
some serious thought to your partners responses to each other – there can be a
lot of good motivation, history, emotional dysfunction, love, loyalty, trust, etc.
portrayed through the act of sex. In romance erotica, sex isn't usually just for the
act of sex, it develops characters and relationships.
7. What piece of advice do you think is most important for writers to keep in mind
over all?
Develop your characters. Know them inside and out, ask them the tough questions
like – What is the rudest, meanest, craziest thing you've ever done? What is the
one thing you feel most sorry for doing? What was your worst embarrassing
moment? What three things would you never do?
Answers to these kind of tough questions helps develop a stronger character,
knowing what motivates, inspires, or drives your character makes him/her real.
8. What author do you admire most and why?
Wow, I have so many, and my list is still building. I don't think I can pick just
one. I admire authors who write strong characters that stay well after the story is
over, like: Carla Neggers, Susan Squires, Jeri Smith-Ready, Maggie Stiefvater,
Ursula K. LeGuin, Kelly Armstrong, Gena Showalter, Jodi Picoult, and many
more.
9. What are you reading right now?
Playing With Fire, by Gena Showalter, and A Past and a Future, an anthology by
Penny Lockwood Ehrenkranz
10. What are you working on right now that readers can look forward to?
My WIP is Staring Into the Eyes of Chance. It is the first book in the LIIA (Lycan
International Investigation Agency) series.
Olivia, a fifty-five year old widow, meets a three hundred year old werewolf,
Chance. At her husbands funeral, Olivia found out he'd led a separate life of philandering,
and Chance watched his father mourn his mother for his whole life – neither want
a relationship, but find it anyway.
She owns and runs a wildlife refuge and preserve, and he heads the LIIA, bringing
rogue and criminal Lycan to justice. One criminal rogue pack settles on Olivia's property and all hell breaks loose for both Olivia and Chance.
Bio: Kay Dee Royal writes fantasy and paranormal erotica romance. She enjoys
penning any tale her characters share, sometimes she doesn't get a choice in the
matter. Her first book, Big Girls Don't Cry Wolf, released on January 1, 2011
through Muse It Up Hot Publishing. Kay Dee lives in Michigan with her husband,
two dogs, and two cats.
Blog – www.kaydeeroyal.blogspot.com
Thanks Kay Dee for doing this interview. And thanks to all of you for reading.