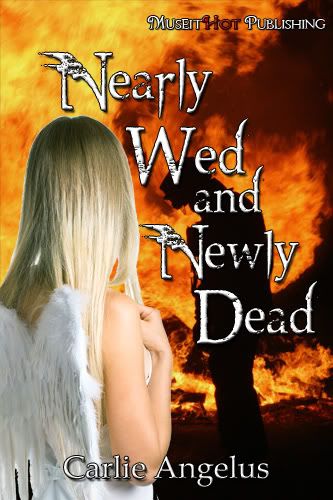 I'm proud to introduce MuseItUp Author Carlie Angelus today. Her paranormal romance, Newly Wed and Newly Dead, comes out in April 2011.
1. Can you tell us a bit about your upcoming project with MuseItUp Publishing?
Yes, it is a paranormal romance featuring a young woman named Shelby who died on her wedding day and came back as a guardian angel twenty years later.
2. When and how did you decide to become a writer?
I've been writing since childhood and this is just the latest of my vivid imagination creations!
3. What was the first story you ever wrote about?
Hard to say. I've always been an avid reader/writer. Probably had something to do with being haunted. I've always been obsessed with ghost stories and the paranormal.
4. Where do most of your story ideas come from?
I believe they are provided courtesy of my muse (also known as "that little voice in my head that never shuts up").
5. How did you find MuseItUp Publishing?
I met Lea Schizas at the amazing Muse Online Conference a couple of years ago and well…the rest is history.
6. What do you like most about working with MuseItUp Publishing so far?
I think their professionalism, detailed accuracy, and just plain outstanding communication with both authors and the public has won me over totally.
7. Are you a plotter or a pantser?
Typically, I'm a pantser but this story came to me with the full plot formed in my head before I started writing. I think it was divine intervention.
8. What do you think about the future of ebooks?
I think e-books are no longer the future. I think they are here…now…to stay.
9. What are you reading right now?
I'm reading Seduced By Shadows (by Jessa Slade)
10. What are you writing that readers have to look forward to?
I'm working on my first demonology book that will be the "opposing" series to the guardian angel series that I currently have with MuseItUp.
Author bio:
Carlie Angelus is a native Floridian who is truly inspired by all things otherworldly. She considers her work to be of the mystical romance variety. Due to her obsession with the great beyond, all of her works include either an angel or demon. Find out more about Carlie at her Wings & Fiends blog.